ALBA Translating Company was one of the first in Russia to have successfully completed certification according to international standard ISO 17100:2015
Standard ISO 17100:2015 (Translation services — Requirements for translation services) was released on 24 April 2015 and have become the first international standard for translation services officially recognized in Russia. ISO 17100:2015 sets out general requirements for the translation process. Its contents are mainly based on European Standard EN 15038:2006 developed on the initiative of the European Union of Associations of Translation Companies (EUATC).
ALBA Translating Company's certification is a guarantee that our work is guided by the following principles: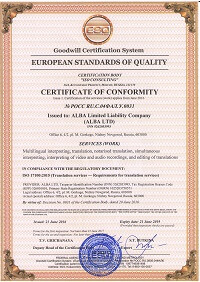 1. Team, not just individual work.
Any translation project involves many professionals (project manager, translator, proofreader, reviser, layout designer) where everyone makes their own contribution to the quality of the finished product. ISO 17100:2015 specifies requirements for the qualification and role of each professional.
2. Preserving information on those responsible for the completion of each stage of the translation process (checklists, translation project management system).
3. Processing, systematisation and transfer to service providers of all information necessary for the delivery of a quality translation service (client's individual requirements, glossaries, translation memory).
4. Regulated qualification assessment process for specialists involved in the projects (education, experience in relevant areas of specialism, reviews and/or recommendations, skills in using software, completion of a test task, etc.).
5. Required hardware and software (translation memory systems, translation project management systems, terminology management systems, quality assurance (QA) tools, desktop publishing (DTP) software, etc.).
6. Availability of a plan of actions for preventing and responding to non-routine situations.
7. Feedback collection and processing (client reviews).
8. Continuous professional development and training of employees.
Compliance with the requirements of the Standard is confirmed by annual inspection control. Although ALBA Translating Company had complied with the requirements set out in the Standard before the certification, this was an interesting experience, which allowed us to formalize many operating processes in the company. The certification has yet again confirmed the high level of translation services provided by ALBA Translating Company to its clients for over 10 years.