Translation from Arabic
ALBA Translation Agency offers you services of translation from/into Arabic of texts on different themes, and can also offer you an Arabic interpreter for negotiations, exhibitions, seminars, support to delegations and equipment assembly.
Our translation agency has an experience in translation from Arabic of different texts (technical, legal and literary), for example, documents for shop and industrial equipment, requirements of standards, specifications, certificates, among which are education certificates, diplomas and passports, including further notarisation.
Arabic is one of Semitic languages (such as Hebrew and New Aramaic) and the most popular language of this group. Arabic is spoken by more than 280 million people as their native language and by about 250 million people as a foreign language. Most native Arabic speakers live in Central and Northern Asia. Arabic is spoken by most people of Algeria (32.1 million), Bahrain, Egypt (65.4 million), Iraq (18.3 million), Jordan (5.6 million), Kuwait, Lebanon (3.9 million), Libya (4.2 million), Mauritania, Morocco (18.8 million), Oman, Qatar, Saudi Arabia (26.4 million), Sudan (15 million), Syria (11.5 million), Tunisia (9 million), the United Arab Emirates and Yemen (15 million).
Modern Arabic originated from Classical Arabic, which was one of the languages of the North Arabian language group and which evolved as early as in the pre-Islamic period in the 4th century. Arabic served as a source of borrowings into many other languages of the world, and not only the Islamic world (Spanish, Portuguese, Sicilian, Hebrew, Persian and Syriac). It may be said that Arabic plays the same role in the Islamic world as Latin in Christendom.
Interesting facts about Arabic
• 28 letters in Arabic at the end of a word are written not in the same way as in the middle of a word. There are no such letters in the European languages.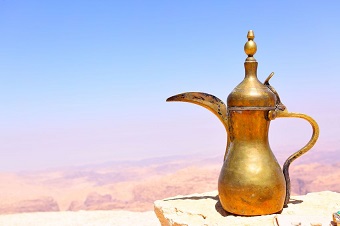 • The words pyjamas, sugar, magazine, algebra, alcohol, alchemy and zenith are of Arabic origin. The reason for borrowing of most words borrowed from Arabic was that the translators of Old Arabic scientific texts into Persian, Turkish, Aramaic or European languages used loan translation.
• Sahara translated from Arabic means desert.
• Numbers in Arabic are written in the same manner as words, from right to left, beginning with the lowest-order digits.
• The Koran is written in Classical Arabic, which is considered the liturgical language of Islam.
• The Arabic alphabet evolved from the Aramaic alphabet, varieties of which were used in Syriac and Nabataean.