Translation for the automotive industry
The globalization processes in the automotive industry are on the rise. In order to ensure economies of scale, Russian and foreign enterprises create large automotive alliances. Such cooperation drives high demand for services of highly-skilled translators.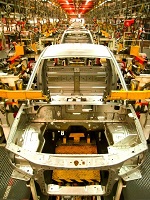 Translation of texts for the automotive industry is an extremely difficult and responsible task, which can only be performed on a high-quality level by specialists who have experience in this field and know the specifics of technology used in the automotive industry (foundry, forging and stamping, heat treatment and machine processing, assembly, welding, powder metallurgy, protective and decorative coating, etc.).
The automotive industry and automotive parts manufacturing are the main sectors of the economy of the Nizhny Novgorod region. Nizhny Novgorod is rightly called a 'Russian Detroit.' Many translators of our agency began their careers in translation departments of automotive enterprises of the region after graduating from the Nizhny Novgorod State Linguistic University. Owing to this, Alba Translation Agency is able to offer top-quality translation of materials for the automotive industry:
• interpreting services at pre-commissioning activities;
• translation of instructions and certificates for machines and other equipment;
• translation of quality standards for the automotive industry;
• translation of sale and purchase agreements;
• translation of customs documents.
We have continuously provided translation services for the automotive sector since our establishment. Our translators have necessary education and experience, so you can rest assured that your automotive industry documents will be translated with the highest quality.